Cirugía micrográfica de Mohs en Uruguay
Primeros 130 casos en carcinomas cutáneos
Julio Magliano

Universidad de la República, Hospital de Clínicas, Cátedra de Dermatología

Jorge Navarrete

Universidad de la República, Facultad de Medicina, Departamento de Dermatología

Miguel Martínez

Universidad de la República, Facultad de Medicina, Departamento de Dermatología

Carlos Bazzano

Universidad de la República, Facultad de Medicina, Departamento de Dermatología
Palabras clave:
CIRUGÍA DE MOHS, NEOPLASIAS CUTÁNEAS, CARCINOMA BASOCELULAR, CARCINOMA DE CÉLULAS ESCAMOSAS
Resumen
Introducción:
la cirugía micrográfica de Mohs es una técnica para la exéresis de cánceres de piel con el examen histológico del 100% de los márgenes quirúrgicos, logrando la tasa de curación más alta con máxima preservación de tejido sano.
Objetivo:
realizar una descripción clínico-epidemiológica de nuestras primeras 130 cirugías en el Hospital de Clínicas.
Método:
análisis descriptivo de todos los pacientes operados por un único cirujano de Mohs en nuestra Unidad de Cirugía Dermatológica desde noviembre de 2013 hasta junio de 2016. Se registraron datos clínicos, tumorales y quirúrgicos.
Resultados:
se estudiaron 130 cirugías en 90 pacientes; 62,3% fueron realizadas en hombres y 37,7% en mujeres. La edad media fue de 68 años (rango: 33-90 años). El 67,7% provenía de Montevideo y el 32,3% del interior del país. El 68% correspondía a carcinoma basocelular y 32% a carcinoma espinocelular. El 91,5% eran tumores primarios y el 8,5% recurrentes. El 75,3% se encontraba en cabeza y cuello. El tipo más frecuente de cierre fueron los colgajos en 43% (56). Hasta el momento, 70 pacientes han completado seguimiento de al menos un año, donde se vio recidiva tumoral en un solo caso (1/70; 1,43%).
Conclusiones:
la cirugía de Mohs es un procedimiento seguro y eficaz, y nuestros resultados coinciden con lo descrito en centros de referencia internacional. Este es el primer centro de Uruguay que cuenta con un cirujano de Mohs y presentamos el primer estudio en pacientes uruguayos.
Citas
(1) Benedetto PX, Poblete-López C. Mohs micrographic surgery technique. Dermatol Clin 2011; 29(2):141-51.
(2) Connolly SM, Baker DR, Coldiron BM, Fazio MJ, Storrs PA, Vidimos AT, et al. AAD/ACMS/ASDSA/ASMS 2012 appropriate use criteria for Mohs micrographic surgery: a report of the American Academy of Dermatology, American College of Mohs Surgery, American Society for Dermatologic Surgery Association, and the American Society for Mohs Surgery. J Am Acad Dermatol 2012; 67(4):531-50.
(3) Blechman AB, Patterson JW, Russell MA. Application of Mohs micrographic surgery appropriate-use criteria to skin cancers at a university health system. J Am Acad Dermatol 2014; 71(1):29-35.
(4) Bichakjian CK, Olencki T, Aasi SZ, Alam M, Andersen JS, Berg D, et al. Basal Cell Skin Cancer, Version 1.2016, NCCN Clinical Practice Guidelines in Oncology. J Natl Compr Canc Netw 2016; 14(5):574-97.
(5) Goldenberg A, Ortíz A, Kim SS, Jiang SB. Squamous cell carcinoma with aggressive subclinical extension: 5-year retrospective rewiev of diagnostic predictors. J Am Acad Dermatol 2015; 73(1):120-6.
(6) Ocampo-Candiani J, Vidaurri LM, Olazarán Medrano Z. Cirugía micrográfica de Mohs en tumores malignos de la piel. Med Cutan Iber Lat Am 2004; 32(2):65-70.
(7) Grosfeld EC, Smit JM, Krekels GA, van Rappard JH, Hoogbergen MM. Facial reconstruction following Mohs micrographic surgery: a report of 622 cases. J Cutan Med Surg 2014; 18(4):265-70.
(8) Ibrahim AM, Rabie AN, Borud L, Tobias AM, Lee BT, Lin SJ. Common patterns of reconstruction for Mohs defects in the head and neck. J Craniofac Surg 2014; 25(1):87-92.
(9) Wain RA, Tehrani H. Reconstructive outcomes of Mohs surgery compared with conventional excision: A 13-month prospective study. J Plast Reconstr Aesthet Surg 2015; 68(7):946-52.
(10) Leibovitch I, Huilgol SC, Selva D, Richards S, Paver R. Basal cell carcinoma treated with Mohs surgery in Australia I. Experience over 10 years. J Am Acad Dermatol 2005; 53(3):445-51.
(11) Ruiz-Salas V, Garcés JR, Miñano Medrano R, Alonso-Alonso T, Rodríguez-Prieto MÁ, López-Estebaranz JL, et al. Descripción de los pacientes intervenidos mediante cirugía de Mohs en España: datos basales del registro español de cirugía de Mohs (REGESMOHS). Actas Dermosifiliogr 2015; 106(7):562-8.
(12) Veronese F, Farinelli P, Zavattaro E, Zuccoli R, Bonvini D, Leigheb G, et al. Basal cell carcinoma of the head region: therapeutical results of 350 lesions treated with Mohs micrographic surgery. J Eur Acad Dermatol Venereol 2012; 26(7):838-43.
(13) Macfarlane L, Waters A, Evans A, Affleck A, Fleming C. Seven years' experience of Mohs micrographic surgery in a UK centre, and development of a UK minimum dataset and audit standards. Clin Exp Dermatol 2013; 38(3):262-9.
(14) Lee DA, Miller SJ. Nonmelanoma skin cancer. Facial Plast Surg Clin North Am 2009; 17(3):309-24.
(15) Hussain W, Affleck A, Al-Niaimi F, Cooper A, Craythorne E, Fleming C, et al. Safety, complications and patients' acceptance of Mohs micrographic surgery under local anaesthesia: results from the UK MAPS (Mohs Acceptance and Patient Safety) Collaboration Group. Br J Dermatol 2016; 176(3):806-8.
(16) Leibovitch I, Huilgol SC, Selva D, Hill D, Richards S, Paver R. Cutaneous squamous cell carcinoma treated with Mohs micrographic surgery in Australia I: experience over 10 years. J Am Acad Dermatol 2005; 53(2):253-60.
(17) Alonso T SnP, González A, Ingelmo J, Ruiz I, Delgado S, Rodríguez M. Mohs micrographic surgery our first 100 patients. Actas Dermosifiliogr 2008; 99(4):275-80.
(18) Cardoso F DSB. Mohs micrographic surgery: a study of 83 cases. An Bras Dermatol 2012; 87(2):228-34.
(19) Hafiji J, Hussain W, Salmon P. Mohs surgery spares the orbicularis oris muscle, optimizing cosmetic and functional outcomes for tumours in the perioral region: a series of 407 cases and reconstructions by dermatological surgeons. Br J Dermatol 2015; 172(1):294-6.
(20) Mehrany K, Weenig RH, Pittelkow MR, Roenigk RK, CC. O. High recurrence rates of Basal cell carcinoma after mohs surgery in patients with chronic lymphocytic leukemia. Arch Dermatol 2004; 140(8):985-8.
(21) Leitenberger JJ, Rogers H, Chapman JC, Maher IA, Fox MC, Harmon CB, et al. Defining recurrence of nonmelanoma skin cancer after Mohs micrographic surgery: Report of the American College of Mohs Surgery Registry and Outcomes Committee. J Am Acad Dermatol 2016; 75(5):1022-31.
(22) Leibovitch I, Huilgol SC, Selva D, Richards S, Paver R. Basal cell carcinoma treated with Mohs surgery in Australia II. Outcome at 5-year follow-up. J Am Acad Dermatol 2005; 53(3):452-7.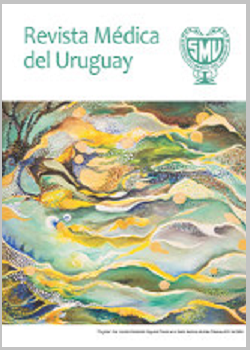 Cómo citar
1.
Magliano J, Navarrete J, Martínez M, Bazzano C. Cirugía micrográfica de Mohs en Uruguay. Rev. Méd. Urug. [Internet]. 6 de mayo de 2019 [citado 3 de diciembre de 2023];34(1):29-8. Disponible en: http://www2.rmu.org.uy/ojsrmu311/index.php/rmu/article/view/39
Sección
Artículos originales