Cirugía torácica por puerto único
Experiencia inicial
Leonardo Toscano

Hospital Central de las FFAA, Cirujano Torácico

Virginia Calfani

Hospital Central de las FFAA, Residente de Cirugía General

Emilio Durand

Hospital Maciel, Cirugía de Tórax, Asistente Grado. Hospital Central de las FFAA, Cirujano Torácico

Luis Chaparro

Hospital Central de las FFAA, Equipo de Cirugía Torácica

Ulises Parada

Hospital de Clínicas, Cirugía General, Asistente Grado 2. Hospital Central de las FFAA, Equipo de Cirugía Torácica

Daniel Terra

Hospital de Clínicas, Departamento de Emergencia, Profesor Agregado. Hospital Central de las FFAA, Cirujano Torácico

Martín Odriozola

Hospital Central de las FFAA, Cirujano Torácico
Palabras clave:
CIRUGÍA ASISTIDA POR VIDEO, CIRUGÍA TORÁCICA UNIPORTAL, CIRUGÍA TORÁCICA MINI INVASIVA
Resumen
Introducción: La cirugía torácica videoasistida es hoy un procedimiento aceptado por ser seguro, factible y efectivo para el tratamiento de casi todas las enfermedades del tórax. En el 2010 se comienzan a publicar procedimientos complejos por un solo puerto, con una gran expansión a nivel mundial. Esta vía de abordaje es al menos equiparable a la multiportal en lo que concierne a resultados en el postoperatorio, o incluso mejor en lo referente a dolor, neuralgia intercostal y estadía hospitalaria. Realizamos un análisis retrospectivo de los procedimientos uniportales entre septiembre de 2018 y agosto de 2020.
Resultados: 40 pacientes fueron sometidos a procedimientos por vía uniportal torácica. De estos, 18 pacientes fueron sometidos a resecciones anatómicas (45%), 19 a resecciones atípicas (no anatómicas), una timectomía y dos biopsias pleurales. Se realizaron 12 lobectomías (30%), 3 neumonectomías (7,5%) y 3 segmentectomías (7,5%). Se convirtieron a cirugía abierta 6 pacientes (15%) y falleció un paciente por sepsis respiratoria. En cuanto a las complicaciones tuvimos en las resecciones anatómicas ocho complicaciones (cinco mayores), en las no anatómicas 4 complicaciones (2 mayores). Del postoperatorio un paciente con dolor de más de un mes de evolución, uno con parestesias en el territorio intercostal y dos con disnea. Las resecciones anatómicas tuvieron una media de internación de 8 días y 5.8 días de drenaje pleural, mientras que las no anatómicas 5,5 días de internación y 3.3 días de drenaje pleural.
Conclusión: la cirugía uniportal es segura y practicable en centro de bajo volumen.
Citas
1) Toscano L. Uniportal video-assisted thoracic surgery: it's time to believe. EC Pulmonol Resp Med 2020; 9(3):1-3.
2) Drevet G, Ugalde Figueroa P. Uniportal video-assisted thoracoscopic surgery: safety, efficacy and learning curve during the first 250 cases in Quebec, Canada. Ann Cardiothorac Surg 2016; 5(2):100-6.
3) Onaitis MW, Petersen RP, Balderson SS, Toloza E, Burfeind WR, Harpole DH, et al. Thoracoscopic lobectomy is a safe and versatile procedure: experience with 500 consecutive patients. Ann Surg 2006; 244(3):420-5.
4) Scott WJ, Allen MS, Darling G, Meyers B, Decker PA, Putnam JB, et al. Video-assisted thoracic surgery versus open lobectomy for lung cancer: a secondary analysis of data from the American College of Surgeons Oncology Group Z0030 randomized clinical trial. J Thorac Cardiovasc Surg 2010; 139(4):976-81.
5) Rocco G, Martin-Ucar A, Passera E. Uniportal VATS wedge pulmonary resections. Ann Thorac Surg 2004; 77(2):726-8.
6) Gonzalez D, Paradela M, Garcia J, de la Torre M. Single-port video-assisted thoracoscopic lobectomy. Interact Cardiovasc Thorac Surg 2011; 12(3):514-5.
7) Bourdages-Pageau E, Vieira A, Lacasse Y, Figueroa PU. Outcomes of uniportal vs multiportal video-assisted thoracoscopic lobectomy. Semin Thorac Cardiovasc Surg 2020; 32(1):145-51.
8) Koryllos A, Stoelben E. Uniportal video-assisted thoracoscopic surgery (VATS) sleeve resections for non-small cell lung cancer patients: an observational prospective study and technique analysis. J Vis Surg 2018; 4:16.
9) Gonzalez-Rivas D, Fieira E, Delgado M, de la Torre M, Mendez L, Fernandez R. Uniportal video-assisted thoracoscopic sleeve lobectomy and other complex resections. J Thorac Dis 2014; 6(Suppl 6):S674-681.
10) Shen Y, Wang H, Feng M, Xi Y, Tan L, Wang Q. Single- versus multiple-port thoracoscopic lobectomy for lung cancer: a propensity-matched study†. Eur J Cardiothorac Surg 2016; 49 (Suppl 1):i48-53.
11) Wang L, Liu D, Lu J, Zhang S, Yang X. The feasibility and advantage of uniportal video-assisted thoracoscopic surgery (VATS) in pulmonary lobectomy. BMC Cancer 2017; 17(1):75.
12) Jutley RS, Khalil MW, Rocco G. Uniportal vs standard three-port VATS technique for spontaneous pneumothorax: comparison of post-operative pain and residual paraesthesia. Eur J Cardiothorac Surg 2005; 28(1):43-6.
13) Ismail M, Nachira D. Devising the guidelines: the concept of uniportal video-assisted thoracic surgery-instrumentation and operatory room staff. J Thorac Dis 2019; 11(Suppl 16):S2079-85.
14) Tosi D, Nosotti M, Bonitta G, Mazzucco A, Righi I, Mendogni P, et al. Uniportal and three-portal video-assisted thoracic surgery lobectomy: analysis of the Italian video-assisted thoracic surgery group database. Interact Cardiovasc Thorac Surg 2019; 29(5):714-21.
15) Nachira D, Meacci E, Ismail M, Gonzalez-Rivas D, Margaritora S. Why to change from multiportal to uniportal VATS? Video-Assist Thorac Surg. 2018; 3:14-14.
16) Saji H, Tsuboi M, Yoshida K, Kato Y, Nomura M, Matsubayashi J, et al. Prognostic impact of number of resected and involved lymph nodes at complete resection on survival in non-small cell lung cancer. J Thorac Oncol 2011; 6(11):1865-71.
17) Shimada Y. What could be the key elements to determine the optimal number of lymph nodes sampled? J Thorac Dis 2017; 9(3):E290-1.
18) Zhong WZ, Liu SY, Wu YL. Numbers or stations: from systematic sampling to individualized lymph node dissection in non–small-cell lung cancer. J Clin Oncol 2017; 35(11):1143-5.
19) Rocco G, Martucci N, La Manna C, Jones DR, De Luca G, La Rocca A, et al. Ten-year experience on 644 patients undergoing single-port (uniportal) video-assisted thoracoscopic surgery. Ann Thorac Surg 2013; 96(2):434-8.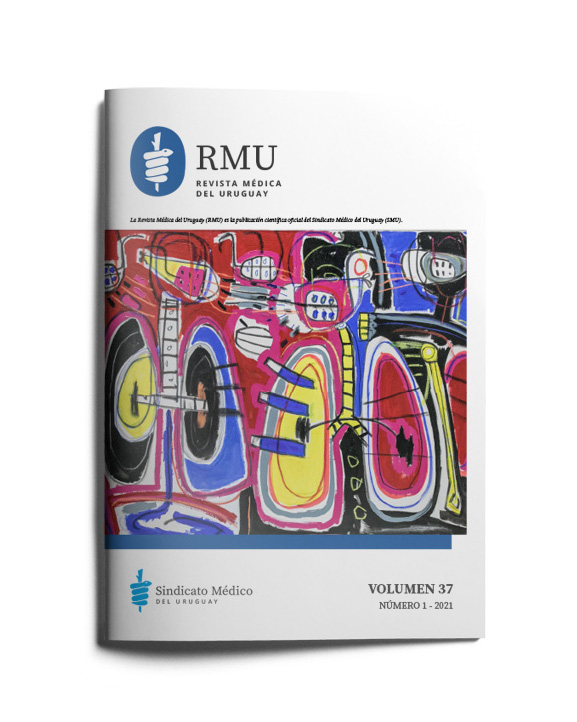 Cómo citar
1.
Toscano L, Calfani V, Durand E, Chaparro L, Parada U, Terra D, Odriozola M. Cirugía torácica por puerto único. Rev. Méd. Urug. [Internet]. 26 de noviembre de 2021 [citado 18 de mayo de 2022];37(4):e37403. Disponible en: http://www2.rmu.org.uy/ojsrmu311/index.php/rmu/article/view/761
Sección
Artículos originales
Esta obra está bajo licencia internacional
Creative Commons Reconocimiento-NoComercial 4.0
.