Cirugía del incidentaloma suprarrenal
Javier Chinelli, Dr.

Hospital Maciel. Clínica Quirúrgica 2.

Gustavo Rodríguez, Prof.

Hospital Maciel. Clínica Quirúrgica 2.
Palabras clave:
INCIDENTALOMA SUPRARRENAL
Resumen
Introducción: la incidencia de incidentalomas suprarrenales ha aumentado con el uso de técnicas modernas de imagen y la indicación quirúrgica se basa en la sospecha de malignidad o hiperfunción.
Objetivo: revisar una casuística de incidentalomas suprarrenales operados.
Pacientes y método: 16 pacientes operados entre los años 2010 y 2017 en dos instituciones de asistencia médica. Se describen aspectos diagnósticos, técnica operatoria y morbimortalidad de los procedimientos.
Resultados: la mayoría de los procedimientos se realizaron por abordaje laparoscópico, destacándose tres complicaciones intraoperatorias, sin mortalidad en la serie. La lesión más frecuentemente encontrada fue el adenoma no funcionante.
Discusión: la llave diagnóstica, clave en la decisión de seguir u operar un incidentaloma suprarrenal, es la imagenología. El protocolo de seguimiento continúa siendo objeto de debate actualmente, así como la indicación de cirugía en lesiones funcionantes subclínicas. Conclusiones: la suprarrenalectomía laparoscópica es una cirugía segura, con cifras de morbimortalidad en el rango descrito por la literatura.
Citas
(1) Boland GW, Blake MA, Hahn PF, Mayo-Smith WW. Incidental adrenal lesions: principles, techniques, and algorithms for imaging characterization. Radiology 2008; 249(3):756-75.
(2) Young WF Jr. Clinical practice: the incidentally discovered adrenal mass. N Engl J Med 2007; 356(6):601-10.
(3) Barzon L, Sonino N, Fallo F, Palu G, Boscaro M. Prevalence and natural history of adrenal incidentalomas. Eur J Endocrinol 2003; 149(4):273-85.
(4) Rodríguez G, Balboa O.Suprarrenalectomíavideolaparoscópica. En: Rodríguez G, Balboa O, eds. Video cirugía, técnica quirúrgica. Montevideo: El Pais, 2003:183-92.
(5) O'Neill CJ, Spence A, Logan B, Suliburk JW, Soon PS, Learoyd DL, et al.Adrenal incidentalomas: risk of adrenocortical carcinoma and clinical outcomes. J SurgOncol 2010; 102(5):450-3.
(6) Foti G, Faccioli N, Mantovani W, Malleo G, Manfredi R, Mucelli RP.Incidental adrenal lesions: Accuracy of quadriphasic contrast enhanced computed tomography in distinguishing adenomas from nonadenomas. Eur J Radiol 2012; 81(8):1742-50.
(7) Ilias I, Sahdev A, Reznek RH, Grossman AB, Pacak K. The optimal imaging of adrenal tumours: a comparison of different methods. EndocrRelat Cancer 2007; 14(3):587-99.
(8) Haider MA, Ghai S, Jhaveri K, Lockwood G. Chemical shift MR imaging of hyperattenuating (>10 HU) adrenal masses: does it still have a role? Radiology 2004; 231(3):711-6.
(9) Gust L, Taieb D, Beliard A, Barlier A, Morange I, de Micco C, et al. Preoperative 18F-FDG uptake is strongly correlated with malignancy, weiss score, and molecular markers of aggressiveness in adrenal cortical tumors. World J Surg 2012; 36(6):1406-10.
(10) Evans PD, Miller CM, Marin D, Stinnett SS, Wong TZ, Paulson EK, et al. FDG-PET/CT characterization of adrenal nodules: diagnostic accuracy and interreader agreement using quantitative and qualitative methods. AcadRadiol 2013; 20(8):923-9.
(11) Sancho JJ, Triponez F, Montet X, Sitges-Serra A. Surgical management of adrenal metastases. Langenbecks Arch Surg 2012; 397(2):179-94.
(12) Barzon L, Fallo F, Sonino N, Boscaro M. Development of overt Cushing's syndrome in patients with adrenal incidentaloma. Eur J Endocrinol 2002; 146(1):61-6.
(13) Toniato A, Merante-Boschin I, Opocher G, Pelizzo MR, Schiavi F, Ballotta E. Surgical versus conservative management for subclinical cushing syndrome in adrenal incidentalomas: a prospective randomized study. Ann Surg 2009; 249(3):388-91.
(14) Bilimoria KY, Shen WT, Elaraj D, Bentrem DJ, Winchester DJ, Kebebew E, et al. Adrenocortical carcinoma in the United States: treatment utilization and prognostic factors. Cancer 2008; 113(11):3130-6.
(15) Melck AL, Rosengart MR, Armstrong MJ, Stang MT, Carty SE, Yip L. Immediate laparoscopic adrenalectomy versus observation: cost evaluation for incidental adrenal lesions with atypical imaging characteristics. Am J Surg 2012; 204(4):462-7.
(16) Tabarin A, Bardet S, Bertherat J, Dupas B, Chabre O, Hamoir E, et al. Exploration and management of adrenal incidentalomas: French Society of Endocrinology Consensus. Ann Endocrinol (Paris) 2008; 69(6):487-500.
(17) Grumbach MM, Biller BM, Braunstein GD, Campbell KK, Carney JA, Godley PA, et al. Management of the clinically inapparent adrenal mass ("incidentaloma"). Ann Intern Med 2003; 138(5):424-9.
(18) Mathonnet M, Peix JL, Sebag F. Chirurgie des Glandes Surrènales. Paris: Arnette, 2011.
(19) Zeiger MA, Siegelman SS, Hamrahian AH. Medical and surgical evaluation and treatment of adrenal incidentalomas. J ClinEndocrinolMetab 2011; 96(7):2004-15.
(20) Guerrieri M, Campagnacci R, De Sanctis A, Baldarelli M, Coletta M, Perretta S. The learning curve in laparoscopic adrenalectomy. EndocrinolInvest 2008; 31(6):531-6.
(21) González D, Rodríguez G, Segura D, Balboa O, Ruso L. Adrenalectomía videolaparoscópica: experiencia inicial. CirEndosc 2009; 10(3-4):113-7.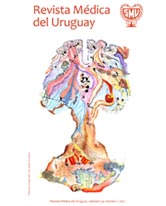 Cómo citar
1.
Chinelli J, Rodríguez G. Cirugía del incidentaloma suprarrenal. Rev. Méd. Urug. [Internet]. 12 de julio de 2019 [citado 9 de agosto de 2022];33(4):242-8. Disponible en: http://www2.rmu.org.uy/ojsrmu311/index.php/rmu/article/view/87
Sección
Artículos originales
Esta obra está bajo licencia internacional
Creative Commons Reconocimiento-NoComercial 4.0
.