Manejo clínico de la equinococosis quística hepática, estadio CE3b, combinando tratamiento médico-estrategia de vigilancia y espera
a propósito de un caso
Daniel Da Rosa

Universidad de la República. Facultad de Medicina. Instituto de Higiene. Departamento de Parasitología y Micología

Ana María Acuña

Universidad de la República. Facultad de Medicina. Instituto de Higiene. Departamento de Parasitología y Micología

Elisa Figueredo

Universidad de la República. Facultad de Medicina. Instituto de Higiene. Departamento de Parasitología y Micología

Luis Calegari

Universidad de la República. Facultad de Medicina. Instituto de Higiene. Departamento de Parasitología y Micología

Luis Ruso Martínez

Universidad de la República. Facultad de Medicina. Hospital Maciel. Clínica Quirúrgica 3
Palabras clave:
EQUINOCOCOCIS HEPÁTICA, BENZOIMIDAZOLES, VIGILANCIA
Resumen
La hidatidosis o equinococosis quística es una enfermedad zoonótica que tiene presentaciones clínicas muy heterogéneas. Los quistes sintomáticos y complicados habitualmente son resueltos mediante cirugía siguiendo las reglas de la WHO-IWGE. Sin embargo, en las formas transicionales (CE3) los criterios terapéuticos continúan en discusión. Asimismo, en quistes asintomáticos y en pacientes con alto riesgo quirúrgico, la opción del tratamiento médico con benzoimidazólicos y su combinación con la estrategia de vigilar y esperar puede ser una alternativa terapéutica segura. Se presenta un caso de hidatidosis hepática CE3b con características clínico-evolutivas excepcionales y alto riesgo quirúrgico en que se adoptó un manejo de vigilancia clínica y tratamiento con albendazol. Se analizan los beneficios y riesgos de esta terapéutica.
Citas
(1) Craig PS, McManus DP, Lightowlers MW, Chabalgoity JA, Garcia HH, Gavidia CM, et al. Prevention and control of cystic echinococcosis. Lancet Infect Dis 2007; 7(6):385-94.
(2) Bonifacino R, Carter SD, Craig PS, Almeida I, Da Rosa D. Assessment of the immunological surveillance value of humoral and lymphocyte assays in severe human cystic echinococcosis. Trans R Soc Trop Med Hyg 2000; 94(1):97-102.
(3) Brunetti E, Junghanss T. Update on cystic hydatid disease. Curr Opin Infect Dis 2009; 22(5):497-502.
(4) World Health Organization. Department on Communicable Disease, Surveillance and Response. Puncture, aspiration, injection, re-aspiration: an option for the treatment of cystic echinococcosis. Geneva: WHO, 2001.
(5) Gharbi HA, Hassine W, Brauner MW, Dupuch K. Ultrasound examination of the hydatic liver. Radiology 1981; 139(2):459-63.
(6) Brunetti E, Kern P, Vuitton DA; Writing Panel for the WHO-IWGE. Expert consensus for the diagnosis and treatment of cystic and alveolar echinococcosis in humans. Acta Trop 2010; 114(1):1-16.
(7) World Health Organization. Informal Working Group. International classification of ultrasound images in cystic echinococcosis for application in clinical and field epidemiological settings. Acta Trop 2003; 85(2):253-61.
(8) Rinaldi F, De Silvestri A, Tamarozzi F, Cattaneo F, Lissandrin R, Brunetti E. Medical treatment versus "Watch and Wait" in the clinical management of CE3b echinococcal cysts of the liver. BMC Infect Dis 2014; 14:492.
(9) Daradkeh S, El-Muhtaseb H, Farah G, Sroujieh AS, Abu-Khalaf M. Predictors of morbidity and mortality in the surgical management of hydatid cyst of the liver. Langenbecks Arch Surg 2007; 392(1):35-9.
(10) Piccoli L, Tamarozzi F, Cattaneo F, Mariconti M, Filice C, Bruno A, et al. Long-term sonographic and serological follow-up of inactive echinococcal cysts of the liver: hints for a "watch-and-wait" approach. PLoS Negl Trop Dis 2014; 8(8):e3057.
(11) Stojkovic M, Zwahlen M, Teggi A, Vutova K, Cretu CM, Virdone R, et al. Treatment response of cystic echinococcosis to benzimidazoles: a systematic review. PLoS Negl Trop Dis 2009; 3(9):e524.
(12) Larrieu E, Del Carpio M, Salvitti JC, Mercapide C, Sustersic J, Panomarenko H, et al.Ultrasonographic diagnosis and medical treatment of human cystic echinococcosis in asymptomatic school age carriers: 5 years of follow-up. Acta Trop 2004; 91(1):5-13.
(13) Larrieu E, Frider B, del Carpio M, Salvitti JC, Mercapide C, Pereyra R, et al.Portadores asintomáticos de hidatidosis: epidemiología, diagnóstico y tratamiento. Rev Panam Salud Pública 2000; 8(4):250-6.
(14) Kabaalioglu A, Ceken K, Alimoglu E, Apaydin A. Percutaneous imaging-guided treatment of hydatid liver cysts: do long-term results make it a first choice? Eur J Radiol 2006; 59(1):65-73.
(15) Franchi C, Di Vico B, Teggi A. Long-term evaluation of patients with hydatidosis treated with benzimidazole carbamates. Clin Infect Dis 1999; 29(2):304-9.
(16) Junghanss T, da Silva AM, Horton J, Chiodini PL, Brunetti E. Clinical management of cystic echinococcosis: state of the art, problems, and perspectives. Am J Trop Med Hyg 2008; 79(3):301-11.
(17) Rinaldi F, Brunetti E, Neumayr A, Maestri M, Goblirsch S, Tamarozzi F. Cystic echinococcosis of the liver: A primer for hepatologists. World J Hepatol 2014; 6(5):293-305.
(18) Stojkovic M, Rosenberger KD, Steudle F, Junghanss T. Watch and Wait management of inactive cystic echinococcosis, does the path to inactivity matter: analysis of a prospective patient cohort. PLoS Negl Trop Dis 2016; 10(12): e0005243.
(19) Vuitton DA, Wen H. Treatment of cystic echinococcosis: a combination of general goals and rules, individual decisions and indications. Neth J Med 2007; 65(3):86-8.
(20) Manzano-Román R, Sánchez-Ovejero C, Hernández-González A, Casulli A, Siles-Lucas M. Serological diagnosis and follow-up of human cystic echinococcosis: a new hope for the future? Biomed Res Int 2015; 2015:428205.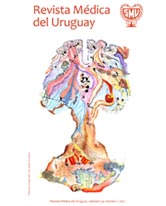 Cómo citar
1.
Da Rosa D, Acuña AM, Figueredo E, Calegari L, Ruso Martínez L. Manejo clínico de la equinococosis quística hepática, estadio CE3b, combinando tratamiento médico-estrategia de vigilancia y espera. Rev. Méd. Urug. [Internet]. 12 de julio de 2019 [citado 9 de agosto de 2022];33(4):269-73. Disponible en: http://www2.rmu.org.uy/ojsrmu311/index.php/rmu/article/view/91
Esta obra está bajo licencia internacional
Creative Commons Reconocimiento-NoComercial 4.0
.