Impacto de la ley uruguaya de seguridad vial en la mortalidad por siniestros de tránsito
Patricio Vanerio

Facultad de Medicina, Universidad de la República

Julio Trostchansky

Facultad de Medicina, Universidad de la República

Fernando Machado

Facultad de Medicina, Universidad de la República

Gerardo Barrios

Facultad de Medicina, Universidad de la República
Palabras clave:
ACCIDENTES DE TRÁNSITO, LEGISLACIÓN, MORTALIDAD, URUGUAY
Resumen
Introducción: los siniestros de tránsito son la octava causa de muerte a nivel mundial y la primera causa entre los 15 y 29 años. En Uruguay, en el año 2007, se creó la Unidad Nacional de Seguridad Vial (UNASEV) con la meta de consolidar políticas nacionales de seguridad vial y su promoción a través de leyes de implementación nacional.
Objetivo: analizar el impacto del conjunto de nuevas leyes de seguridad vial redactadas y sancionadas en el período 2007-2010 sobre la mortalidad por siniestros de tránsito en Uruguay en el período 2011-2015.
Método: estudio retrospectivo descriptivo. Analizamos el cumplimiento de las leyes de tránsito aprobadas durante el período 2007-2010 y su impacto en la mortalidad en el período 2011-2015. Se tomaron tres de las medidas que actúan directamente sobre los factores de riesgo más comúnmente identificados en los siniestros de tránsito: alcohol, velocidad y utilización del casco.
Discusión:entre los años 2011 y 2015 la mortalidad media se ubicó en 16 cada 100.000 habitantes. En 2015, la tasa de mortalidad fue la más baja del período habiendo descendido desde 17,4 en 2011 a 14,6 en 2015. En el período 2007-2010, previo a la implementación de las medidas de la UNASEV, la tendencia era ascendente siendo el número de muertes por siniestros de tránsito de 465 en el año 2007 y de 556 en el año 2010. Esta tendencia se vio interrumpida justamente a partir del año 2011.
Conclusión: si bien existe un ascenso del parque automotor, del consumo de combustibles y del ingreso de turistas, la mortalidad por siniestros de tránsito en el período 2011-2105 mostró un descenso, resultado que pensamos está directamente vinculado con el control activo de los factores de riesgo a través de las nuevas leyes implementadas y generadas por la UNASEV.
Citas
(1) Sauaia A, Moore FA, Moore EE, Moser KS, Brennan R, Read RA, et al. Epidemiology of trauma deaths: a reassessment. J Trauma 1995; 38(2):185-93.
(2) Shaw L, Sichel HS. Accident proneness. Research in the occurrence, causation, and prevention of road accidents. Oxford: Pergamon, 1971:492 p.
(3) Wegman F, Aarts L, Bax C. Advancing sustainable safety: national road safety outlook for the Netherlands for 2005-2020. Saf Sci 2008; 46:323-43.
(4) Hijar M, Carrillo C, Flores M, Anaya R, Lopez V. Risk factors in highway traffic accidents: a case control study. Accid Anal Prev 2000; 32(5):703-9.
(5) Barrios Camponovo G. Enfermedad traumática en Uruguay: aspectos epidemiológicos. Rev Méd Urug 1995; 11(3):187-207.
(6) Trostchansky J, Sánchez G, Dibarboure P, Bado J, Castiñeiras S, Sarutte S, et al. Historia clínica para trauma. Registro hospitalario específico para pacientes traumatizados: un recurso para países en desarrollo. Rev Méd Urug 2011; 27(1):12-20.
(7) Sánchez G, Valsangiácomo P, Trostchansky J, Machado F. Perfil epidemiológico de traumatizados graves en un hospital de agudos. Rev Méd Urug 2006; 22(3):179-84.
(9) Toledo Castillo F, Campón Dominguez JA, Martín Uclés MF. Manual de seguridad vial: factor alcohol. Pamplona: Aranzadi, 2009:460 p.
(10) Donnewald HN, Donnewald E, Donnewald QM. Estudio estadístico sobre muerte en accidentes de tránsito en CABA y su relación con la presencia de alcohol en sangre cadavérica. Pren Med Argent 2008; 95(10):606-13.
(11) Elder RW, Shults RA, Sleet DA, Nichols JL, Thompson RS, Rajab W. Effectiveness of mass media campaigns for reducing drinking and driving and alcohol involved crashes: a systematic review. Am J Prev Med 2004; 27(1):57-65.
(12) Evans L. Safety-belt effectiveness: the influence of crash severity and selective recruitment. Accid Anal Prev 1996; 28(4):423-33.
(13) Evangelidis I. The role of restraint omission in alcohol-related traffic fatalities. Drug Alcohol Depend 2017; 180:423-6.
(14) Radin Umar RS. Helmet initiatives in Malaysia. En: Proceedings of the 2nd World Engineering Congress. Sarawak, 2002:93-101.
(15) Weiss BD. Bicycle related head injuries. Clin Sport Med 1994; 13(1):99-112.
(16) Norvell D, Cummings P. Association of helmet use with death in motorcycle crashes: a matched-pair cohort study. Am J Epidemiol 2002; 156(5):483-7.
(17) Rattan R, Joseph DK, Dente CJ, Klein EN, Kimbrough MK, Nguyen J, et al. Prevention of all-terrain vehicle injuries: a systematic review from the Eastern Association for the Surgery of Trauma. J Trauma Acute Care Surg 2018; 84(6):1017-26.
(18) Suriyawongpaisal P, Kanchanasut S. Road traffic injuries in Thailand: trends, selected underlying determinants and status of intervention. Inj Control Saf Promot 2003; 10(1-2):95-104.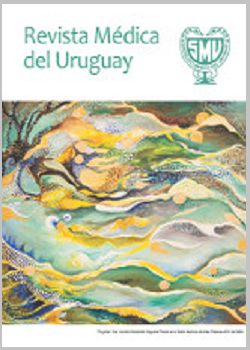 Cómo citar
1.
Vanerio P, Trostchansky J, Machado F, Barrios G. Impacto de la ley uruguaya de seguridad vial en la mortalidad por siniestros de tránsito. Rev. Méd. Urug. [Internet]. 3 de septiembre de 2018 [citado 9 de agosto de 2022];34(3):149-54. Disponible en: http://www2.rmu.org.uy/ojsrmu311/index.php/rmu/article/view/32
Sección
Artículos originales